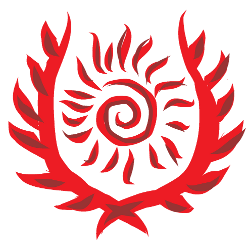 For six generations, the Vaels have ruled as Starkhaven's royal family. Their rulers take up the title of Prince or Princess and always give at least one child to the Chantry as ways of showing their belief that ultimately, it is the Maker who truly rules.
They are a very private family and frown upon the decadence and intrigue that many noble families revel in. They do not allow gossip or rivalries to flourish.
They keep few friends amongst the noble houses that serve as their vassals, but among their closest allies is the House of the Argraves, who swore themselves to the Vaels under the rule of Magnus Vael, the father of the current heir to the thrown Sebastian Vael. Other allies include (or did once include) the Brennans and the Harimanns.
In 9:31 Dragon, the entire immediate Vael family-- save for Sebastian-- was murdered in a coup orchestrated by Lady Johane Harimann. The current head of the family is Goren Vael, a distance cousin of Sebastian Vael.
HISTORY AND GENEOLOGY
Edit
Tired of the constant petty raiding and warfare between Starkhaven and neighboring cities, the original Lord Vael organized a peaceful protest against "King Ironfist", the low-born, self-declared "king of Starkhaven".
Hundreds of Starkhaven's most prominent citizens fasted for ten days and nights on the steps of the chantry, their numbers increasing every day. When his soldiers began deserting in droves at this example of piety, Ironfist surrendered his sword to the templars and left Starkhaven forever. In gratitude, the people of Starkhaven demanded that Lord Vael be king; he refused, however, saying he had no right to that title. He was instead proclaimed prince of Starkhaven, and his family has ruled there ever since. They remain devout, dedicating at least one son or daughter per generation to become a cleric in the chantry.
The most recent Prince of Starkhaven before Goren was Corbinian Vael, the elder brother of Sebastian and Stuart. It was Sebastian who was pledged into the Chantry at his family's fear that he would bring shame and compete with his brothers.
THE CURRENT STATE OF THE FAMILY
Edit
TBA
THE VAELS AND THE CHANTRY
Edit
TBA
CHARACTERS INVOLVED WITH/RELATED TO THE VAEL FAMILY
Edit
Ad blocker interference detected!
Wikia is a free-to-use site that makes money from advertising. We have a modified experience for viewers using ad blockers

Wikia is not accessible if you've made further modifications. Remove the custom ad blocker rule(s) and the page will load as expected.